It's lovely and sunny in London today, but in case you're at work and not out enjoying it, here's a list of things that'll fill you with more warmth than a thousand suns.
A Jacket made of Ziploc bags
Always finding you're short of pockets and don't have anywhere to keep your snacks? Me neither. But if I did have that problem, here's the last thing I'd do to solve it.  This jacket is 'perfect for snacks, emergency supplies, and the Ziploc seal is waterproof'. Ideal for catching your tears, as you get mugged and ridiculed.
Cassettes, Lines and Videotape
Erika Iris is a self taught American artist that uses film, tapes and musical scores to recreate iconic images. Iris describes her series Ghost in the Machine as a 'post-modern response to pop art' which I think sums it up nicely. Her work hones in on the notion of data and memory.
How to make ironing fun
Diego Stocco's sheer enthusiasm for finding innovative ways to record sound, make him a winner.  You can watch him here using the noises from a dry cleaner to create a live composition.  Check out more of his experiments here.
Thunderpaw
One of the best things I've seen online since the internet landed, this online comic book is made 100% in photoshop and uses giffs to bring each scene to vibrant life.  Thunderpaw: In the Ashes of Fire Mountain is funded by viewers and tells the ongoing story of two dogs who find themselves in the midst of an apocalyptic world.  You can read it here.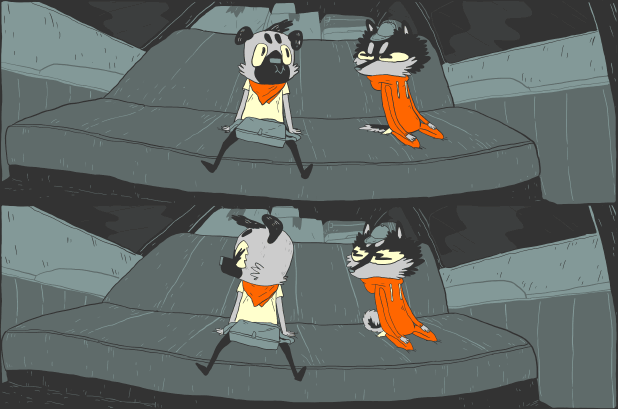 Superformula
Finally, a fantastic bit of design from JWT Brazil, who have collaborated with the A.C.Camargo Cancer Center in São Paulo, to try and change the way children view their cancer treatment.  Teaming up with Warner Brothers, JWT have rebranded the intravenous bags used in chemotherapy with superhero logos.  Superformula uses characters such as Batman, Superman and Wonder Woman, in designs accompanied by comic books and animations, in which superheroes go through similar experiences to that of a child with cancer.  Click here to find out more.

Matthew Grindon
Press and Marketing Assistant