In this week's Current Distractions – surreal dogs, fun chocolate and a dormant crust of planetary mass that hasn't spewed out anything hot in years.

Charles Saatchi
Charles Saatchi is selling Tracy Emin's minging bed if anyone wants it.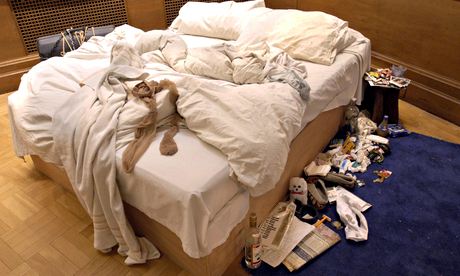 FRITE OF SPRING
You've got to hand it to the Pacific Symphony Orchestra for following through with the best worst idea ever.  Drawing comparisons with initial reactions to Stravinsky's The Rite of Spring and Michael Jackson's Thriller video, they've gone and done a mash-up.  And they've really, really persevered with this, it's a bit like someone explaining a 'knock-knock' joke for about ten minutes straight, and that's exactly why I like it!
CREATIVE BOX
This is a nice idea.  You can subscribe to have 'Creative' boxes delivered to you every three months that contain gadgets and things catered to you as an artist.  Judging by the website it's still pretty new and none of the buttons actually work yet and I can't tell you how much they cost (a lot I reckon), but think how good it'd feel to receive all this pretty stuff you'll never use.  I want one.

VOLCANIC VIOLIN
Violinist Eric Silberger has performed Bach's chaconne inside a volcano "making his performance the first one inside the dormant Thrihnukagigur and possibly the first inside any volcano".
'Possibly the first' (?)
Is it the first or not?  I need to know whether it was a 'total' waste of time or just 'a waste of time'.
Still, Eric seemed to enjoy himself, stating 'I've always wanted to play inside of a volcano'.  Plus, he said the acoustics were amazing.

CHOKLIT
Because I'm not an outdated cartoon depiction of a woman (or Sarah Millican), I wouldn't normally feel the need to scream about chocolate.  But Look at these chocolate bars.  They're mental.  Get them at Unelefante, which is also what people will call you if you if you eat enough of it.

DOGS
In a plea to help unwanted dogs find a new home, photographer Sarolta Ban has taken to Photoshop to create these brilliant and surreal portraits.  When asked about her idea Sarolta had this to say "Abandoned dogs sadly have really few chances to appear on a photo that will help them get out of the shelter. A photo that stands out from the crowd, and 'speaks' to a person. I would really like to help sheltered animals and for sure a good picture can worth a thousand words".
Matthew Grindon
Press and Marketing Officer